French sailor survives 16 hours in capsized boat in Atlantic
A 62-year-old French man survived for 16 hours at sea by using an air bubble inside his boat after it capsized.
Spanish coastguards found the upturned boat, but the sea was too rough to rescue him – so the sailor had to wait until morning.
The man's survival was "verging on the impossible", said coastguard divers.
His boat sent a distress signal at 20:23 local time on Monday, 14 miles (22.5 km) from the Sisargas Islands, near Spain's north-west Galicia region.
A rescue ship carrying five divers as well as three helicopters set off to find and rescue the man, who has not yet been named.
A diver was winched onto the ship's hull to seek signs of life and the man responded by banging from inside.
The sea was rough and the sun had gone down, so the rescue team attached buoyancy balloons to the boat to stop it from sinking and waited until morning.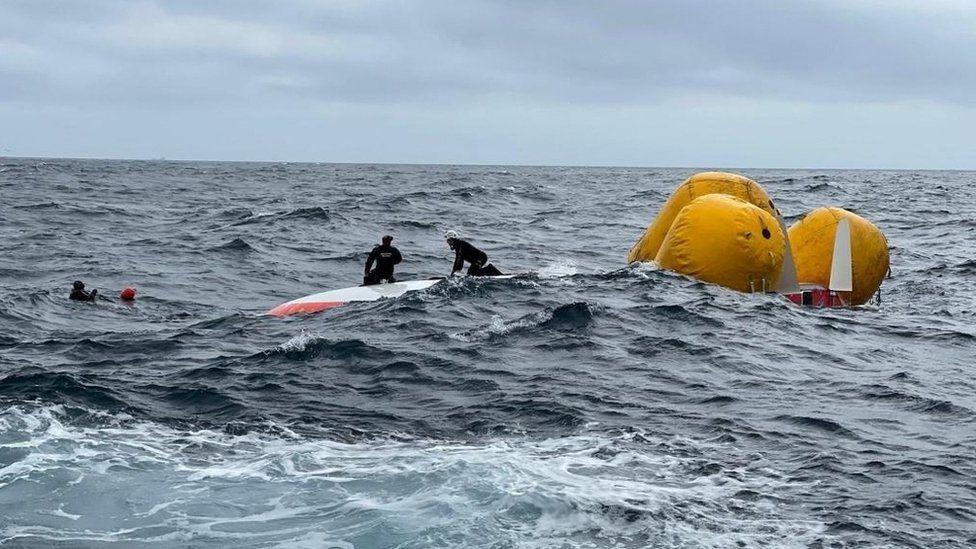 The next day, two divers swam under the boat to help the sailor out, who they found wearing a neoprene survival suit and submerged in water up to his knees.
The man then jumped into the freezing water and swam under the boat towards the sea's surface.
In a tweet, Spain's Maritime Safety and Rescue Society said: "Each life saved is our biggest reward."
The BBC is not responsible for the content of external sites.
View original tweet on Twitter


Vicente Cobelo, a member of the coastguard's special operations team, said the sailor got into the water "of his own initiative" .
But, Mr Cobelo added that divers helped pull the sailor out, as it was difficult for him to get out of his suit.
He was airlifted by the rescue team and briefly taken to hospital for checks.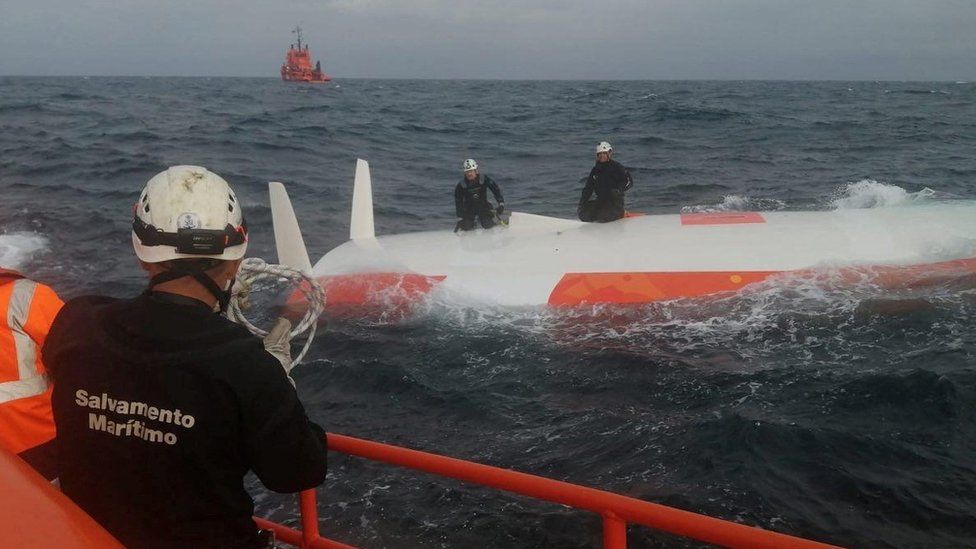 Concrete Roads: Cement price to hit N9,000, manufacturers warn
The Cement Producers Association of Nigeria has warned that the ongoing plan of the federal government to introduce concrete roads will raise the price of cement to N9, 000 per bag from the current price of N5, 000.
It also called on the current administration to permanently address the perennial cement price hike problem by facilitating larger participation in the cement industry, noting that Nigerians have no business buying cement for more than N5, 600 per bag.
The association, in a statement jointly signed by the National Chairman, Prince David Iweta and National Secretary Chief Reagan Ufomba, on Sunday, commended the works Minister's position on cement-made roads but warned of dire consequences, if the supply end is not addressed properly.
As a solution, the cement producers urged the government to lay more emphasis on road design that allows both cement technology and asphalt pavement to run concurrently and provide ample time for a smooth transition that allows contractors to invest in commensurate and requisite equipment and retooling.
The statement read, "Our findings from various parts of the country show that cement sells for as high as N6000 per bag in the rainy season. Our prediction is that it will sell for over N9,000 per bag in the dry season, especially with the pronouncement of the Honourable Minister of Works on cement technology and the marching order on housing by Mr President if the government does not take proactive steps.
"While we commend the Honourable Minister's position on cement-made roads, we warn of the dire consequences if the supply end is not properly addressed. In fact, it would amount to dereliction of duty not to intervene. And the time is now. To do otherwise is to continue in a worsening pipe dream that prices would suddenly drop on this essential input that will continue to drain the purse of Nigerians, render them homeless, encourage chaos between demand and supply, and worsen the infrastructure deficit it sets out to cure, and lead to an unprecedented price hike.
"We also call on the Honourable Minister of Works to lay more emphasis on the design criteria of roads that allow both cement technology and Asphalt pavement to run concurrently, in turn, will provide ample time for a smooth transition that allows contractors to invest in commensurate and requisite equipment and retooling. We must also as a nation regulate static and dynamic load traffic by introducing weighbridges at access points on our highways. Working in sync with contractors, and allied Ministries of Trade and Investment, Transport, Environment and Finance on realistic policy on cement is most desirable at this critical time."
The association further requested the government to conclude the backward integration policy of the late Yar'adua administration that was already bringing availability and affordability of cement in the country.
It added, "There has been so much comment on cement and cement pricing of late. What our nation needs is cement that is available and affordable. And this cannot be achieved by mere wishes, faulty policies and programmes, without breaking the chain of monopoly and favouritisms. Nigerians are tired of waiting for a downturn in the price of cement and for decent and affordable housing.
"We call on the Tinubu government to permanently solve this perennial cement price hike problem by expanding participation in the sector with companies who have verifiable evidence of local investment, including greenfield licenses and quarrying. As a matter of fact, we call on the government to more specifically conclude the backward integration policy of the late Yar'adua administration which was already bearing availability and affordability fruits.
"As patriots, it is our view that the government reintroduces backward integration policy and the conclusion of old ones. Consequently, the government cannot be seen to approbate and reprobate by deregulating issues of petroleum products and foreign exchange on one hand and regulating on pricing of cement, essential goods and services on another. There is a need for policy harmonisation and convergence between fiscal and monetary policies.
"Finally, we call on the government to urgently intervene in the foreign exchange market, intervene in restructuring bad loans of manufacturers, and review palliative modules. The cry for elusive FDI will be drastically reduced if all manufacturing concerns are revived. The government must be decisive in the kind of economic policies it intends to foist on the people," the statement concluded.
Fake News: Dangote Group denies Cement price slash 
Dangote Group has described as fake the reports circulating online that it would reduce the price of cement per 50 kilogramme from N5,500 to N2,700.
Anthony Chiejine, Spokesperson for Dangote Group described the claim as fake news on Monday.
His reaction comes amid speculation that the Dangote group crashed the cement price by 50 per cent with effect from October 1st, 2023.
Earlier, Bahir Ahmad, media aide to former president Muhammadu Buhari, had commented that the report was fake.
Ahmad made this known through his official X handle on Sunday.
"The Dangote Group has denied the trending reports that it has reduced the price of cement from N5,500 to N2,700 effective October 1st", he wrote.
The price of a 50kg bag of cement is sold between N4,600 to N6,000 in Lagos, Ogun, Ondo and Abuja.
However, barely two weeks ago, BUA Cement had hinted at plans to reduce the price of a 50kg bag of cement to between N3,000 and N3,500.
BUA chairman, Abdul Samad Rabiu disclosed this after meeting with President Bola Ahmed Tinubu.
Naira crashes to all-time low at exchange market
The exchange rate between the naira and the dollar plunged to a record low N983/$1 at the black market based on quotes received by Nairametrics on Wednesday as currency traders said there no dollar to sell
This represents a 2.93% drop when compared with the N955/$1 that it traded the previous day as the foreign exchange crisis in the country continues unabated.
This also shows a substantial depreciation from the N950/$1 that it traded last week as the Central Bank of Nigeria (CBN) appears to be still struggling to stabilize the foreign exchange market despite its various policy pronouncements.
Recall that in mid-August, the dollar was quoted as low as N955/$1, stoking fears among investors that the exchange rate might plummet to N1000/$1.
This, however, appreciated at some point to N840/$1 after the apex bank warned speculators about potential major losses due to the policies it hopes to introduce.
In related news, trading on the official I&E window on September 20 witnessed the exchange rate between the naira and the dollar settling at N776.60/$1, a drop from N773.98/$1 the previous day.
The intra-day high soared to N799.9/$1, whereas the intra-day low dipped to N720/$1.
Data from FMDQ Securities Exchange, a platform that oversees official FX trading in Nigeria, shows that a total of $71.01 million was traded at the I & E window, Nigeria's official trading window.
2023 Currency tracking platform AbokiFX also captured the exchange rate trades at N980/$1 on Wednesday. We are out of business
A top official of the Association of Bureau De Change Operators of Nigeria (ABCON) who did not want to be mentioned said that the forex market is currently in disarray as most of the licensed operators do not have dollars to sell and as such out of business.
He said, ''The market has scattered, the rate is N983/$1.
Most of the licensed bureau de change operators do not even have dollars to sell, we are out of business.
"I think the liquidity is in the so-called parallel market. Its all about scarcity and when there is scarcity, it gives rise to parallel or black market.''
He said that if there is dollar available to sell or buy, he might not even do the transaction because he does not know what to do, adding that he is confused as a licensed bureau de change operator.
Going further, he said, ''You see this market operates on different level, we have started seeing Binance, we are now seeing Dubai rate, we are now seeing local parallel market rate, so it depends on the level you are.''